Contact us to schedule a program for your classroom, club, or event.
Since 2009, our team has worked on matters regarding the Redfish Rocks Marine Reserve and Marine Protected Area. Our staff and team members conduct a wide variety educational programs. Programs focus on educational guided tours by foot and by boat, interactive educational events, hosting field trips, marine reserve presentations, and citizen science and k-12 school programs.
The Redfish Rocks Community Team is fiscally sponsored by
The Ocean Foundation
, a certified nonprofit 501 (c)(3) organization. Through fundraising activities our team and staff support a limited number of activities throughout the year. Depending on the availability of resources, fees for some programs may apply. Costs associated with each project will vary depending upon the type of program, location, and other project needs. If you are looking to utilize our professional services or want to partner with us on a project, let's start the conversation early to ensure we can meet all your needs! Start the discussion with us today.
The Redfish Rocks Community Team provides real-world K-12 education programs that align with STEM curricula and learning objectives and Common Core State Standards. We connect all of our educational programs to the NOAA's Essential Ocean Literacy Principles.
We love getting students excited about the ocean, natural world, and providing outdoor experiences, while integrating real-life science, math, and ocean research happening in the marine environment that our communities depend upon.
Our guided tours are usually done for universities, organizations, and tour groups. Our educational tours focus on everything from Redfish Rocks Marine Reserve and the marine life that thrives in coastal waters, to research, to our local community and economy. Tours can include beach walks at Retz Creek (the beach adjacent to Redfish Rocks Marine Reserve), Battle Rock Park and Beach, or even a trip down the "old coast road" to get a bird's-eye view of our amazing coastline. In-town tours revolve around visiting the Oregon State University Field Station, the Port of Port Orford, or Both. These tours usually have a heavier focus on research and the Port Orford community. For the more adventurous, guided ocean kayak tours around the Port Orford Heads will make for an unforgettable experience. Explore aspects of Redfish Rocks Marine Reserve, local history, and marine wildlife like you never have before! Kayak tours are arranged in collaboration with our partners at South Coast Tours and can accommodate up to 20 people.
The Redfish Rocks Community Team has hosted a "marine reserves table" at a variety of events such county fairs, 4-H Club events, land-sea symposiums, and other community events. We can include interactive educational activities, such as a "who's my mommy" game using microscopes and slides, or simply be there to provide information about Redfish Rocks and other Oregon Marine Reserves. Let us know of about your event and how we can help! 
Marine Reserve Presentations
We deliver presentations that focus on Redfish Rocks Marine Reserve and the Redfish Rocks Community Team. Emphasis can be given to a variety of areas, such as community engagement, ecology, our team, research initiatives, and much more. Presentations are most usually requested by universities, libraries, state parks, tour groups, agencies, organizations, and civic groups. If you have particular interest, or even a more general one, we can likely accommodate.
Our citizen science programs are typically done in collaboration or in coordination with scientist and are a part of a larger project done on a coast wide, statewide, or even international scale with many different groups and individuals participating.
We focus our citizen science work on initiatives that interact with Redfish Rocks Marine Reserve and yield meaningful and relevant data. Currently we are partnering with Oregon State University, NOAA, CoastWatch and the Surfrider Foundation. Learn more about our initiatives here.
We encourage you to reach out to us if you are interested in volunteering for one of these programs, or interested in partnering with us to implement a new program in our area.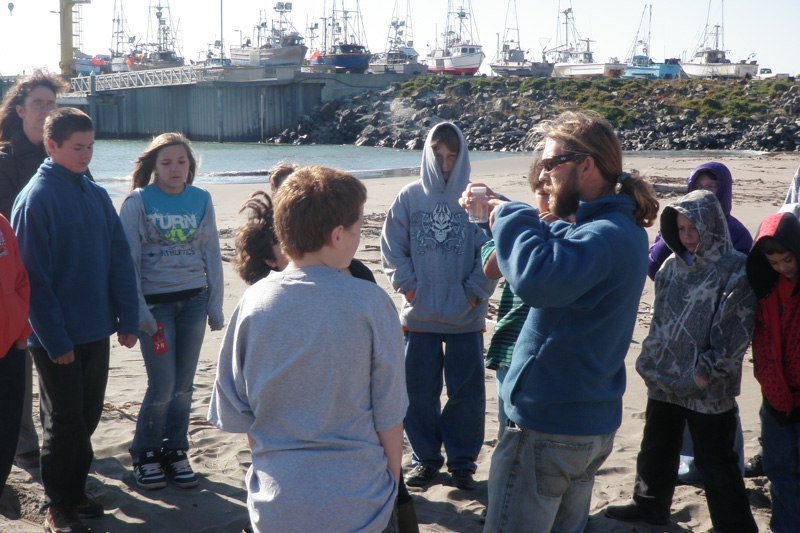 Get started with one of our educational programs!
Fill out the adjacent form to get in touch with our educational staff. We can arrange an educational experience for your students that works with your staff, schedule, and facilities.